Wedding Garters- Upholding The Tradition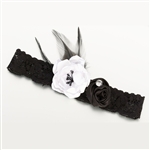 Throughout the Western world, wearing garters at a wedding is considered to be quite a common feature for brides. There is a very famous tradition that takes place right after the reception, in which the groom bends down on one knee and removes a garter, along with the stocking, from the bride's leg. Historically, this was considered as a symbol of "deflowering" for the bride. However, in the world of today, only a handful of people really associate this tradition with "deflowering". Instead, most people now commonly associate this tradition with good luck. It is considered to be a sign of good luck for the couple when the groom takes the garter and the stocking after the reception.
Traditionally, the groom would throw one of the Wedding Garters amongst the crowd of men, while the woman would throw her bouquet (which is still a common tradition) towards the females at the wedding. Whoever would catch the bouquet amongst the females would be asked to a dance by the man who caught the wedding garters. As a result, this would lead to more love and affection amongst the people. However, while only a handful of families nowadays actually follow this trend of throwing the garters in the crowd, the wedding garters themselves are still a pretty important part of the bride's attire.
Types of Wedding Garters
The wedding garters are worn underneath the dress, and are used to hold the stockings up. Despite the fact that there are elasticated stockings now available, most brides consider it as an important part of their attire because of the traditional significance attributed to them. They are usually available in a width of two to three inches, though women can also opt for customized wedding garters. Custom garters can be pre- ordered with specifications, hence allowing the bride to decide the width of the garters herself.
Choosing the right garters
Previously, the common garters available were not made out of elasticated material. Instead, most shops would sell off simple bands of fabric that could be tied around the most slender part of the leg, just below the knee. Nowadays, the tradition has been altered significantly. Women usually wear garters above the knee, around the thighs. These are mostly elasticated, while those who do not prefer elastic can put on a garter belt underneath. A garter belt rests just above the panties, on a woman's midriff. The belt can be used to keep the wedding garters in place. The belt can be adjusted along the waist according to the height of the garters themselves, as well as that of the straps that are used to connect the garters to the garter belt. Different colors are easily available to match the undergarments.